Wavy Baby
Groovy! This classic 70s look has been updated with gold and white for grown up minimalist professionalism that will help you shine. Rock these nails with a crisp white shirt and gold hoops for an "artist off duty look" FYI Pinterest - we called it here first.
What is it: Semi-cured gel nail kit at home

Kit Contains:
24 Nails, 2 Alcohol Prep Pads, Nail File, Wood Stick

Opacity: Transparent
Look: Glossy

Why eazel:
To prevent application adhesion difficulties due to cold weather, we recommend warming up your gel sticker around room temperature (68F-75F).

It's critical that the nails are cleaned thoroughly with an alcohol pad and are completely dry before application to remove any residue.
Customer Reviews
Salon-quality nails
They are absolutely my favorite. For a professional-looking gel manicure that took less than 15 minutes and cost less than $20, I'm hooked. My friend actually asked me where I got my nails done. The quality is just top notch.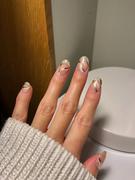 Awesome!!
This is first time I used them. It was easy to apply, and great result! I will definitely buy it again.