Sangria Sunsets
Escape to sunny paradise! These statement-making nails will have you coming back for more-just like your favorite drink.
What is it: Semi-cured gel nail kit at home

Kit Contains:
24 Nails, 2 Alcohol Prep Pads, Nail File, Wood Stick

Opacity: Transparent
Look: Glossy

Why eazel:
To prevent application adhesion difficulties due to cold weather, we recommend warming up your gel sticker around room temperature (68F-75F).

It's critical that the nails are cleaned thoroughly with an alcohol pad and are completely dry before application to remove any residue.
Customer Reviews
02/03/2022
Hina

United States
Love love love!!
This was my first time purchasing from eazel and I'm absolutely obsessed!! The application process was so simple and my nails look absolutely beautiful. Highly recommend and this is hands down one of my favourite small business finds on Instagram.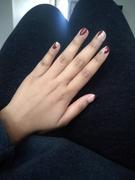 Was a bit difficult at first
clear design feels really unique and with high quality gloss look. It`s really hard to create these clean lines with traditional nail polish (even from a professional salon) so it`s great that this option is available in the sticker. The clear design is also easier to fit on different types of nail shape/ is more universal. Hoping that is last long but I do really like the appearance. Although it took me a sec to get the hang of putting them on, the clear enamel did capture finger prints so I was able to take off and re-apply