Molly's Sequinned Dress
Made for all the Bright Young Things, from the 1920s to the 2020s, this uniquely exciting pattern, combining black glitter and spots, will add polished glamor excitement to your days and nights.
What is it: Semi-cured gel nail kit at home

Kit Contains:
24 Nails, 2 Alcohol Prep Pads, Nail File, Wood Stick

Opacity: Mixed
Look: Glossy

Why eazel:
To prevent application adhesion difficulties due to cold weather, we recommend warming up your gel sticker around room temperature (68F-75F).

It's critical that the nails are cleaned thoroughly with an alcohol pad and are completely dry before application to remove any residue.
Customer Reviews
Really pretty
It's the prettiest nail I've ever done!!!!!!!!!?? This packaging is unique too. Stole my ♡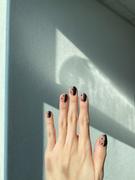 I love this design
The design looks better in real life, it's gorgeous! I've gotten so many compliments when I go out. They also lasted two weeks although I've been rough on my hands, harvesting potatoes in the farm, cleaning, washing dishes, etc. I'm shocked that they look like they were done in a nail salon and are glowing after weeks.
11/04/2021
Nicole D.

South Korea
Pretty
These were still pretty