Helmut Mini Black Dress
This classic piece will go with any fancy occasion you have to attend. Have to go to your sibling's graduation? Your friend's wedding? Prom? Formal? Name it, and these timeless nails will bring up the elegance to your outfit.
What is it: Semi-cured gel nail kit at home

Kit Contains:
24 Nails, 2 Alcohol Prep Pads, Nail File, Wood Stick

Opacity: Full
Finish: Glossy

Why eazel:
💛 Tips From Eazel For Long-lasting Gel Nails 💛
1. Maintain your products at room temperature. Warmed strips adhere better on your nails (68F-75F). Cure them twice for a better result in a cold environment.
2. Thoroughly wash your hands or clean your nails with an alcohol pad. Your hands should be completely dry before application.
3. Try not to stick an over-sized gel nail sticker.
4. File any rough surfaces to make the surface of your nails smooth.
5. We recommend to file the excess stickers to fit your nail shape before curing to ensure proper adherence.
6. File vertically downwards to ensure that the gels fully cover the tips of your nails. You can also use any nail clippers or a pair of nail scissors for easy application.
7. Press firmly around the edges with the provided wood stick.
8. If you feel like your gel sticker is not hard enough, cure them once again. Avoid direct exposure to sunlight or LED lights before you cure.
9. You may apply base coat and top coat for a long-lasting experience.
10. Avoid contact with water and humid environments for 2-4 hours after application. Best to apply after a shower.
Customer Reviews
03/13/2022
Kat A.

United States
I recommend this product
Trendy and chic
I wasn't exactly sure if I would like this design, but it's simple yet has a bit of an edge. Different enough to stand out from other semicured brands out there. Excited to see more of your new designs!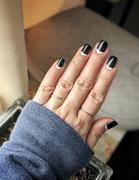 Loveeeeee
It was quite hard for me to apply at the beginning since this is my first time trying gel nail sticker, but their customer service is so amazing! They helped me with how to apply properly and I am PRO. Once you have them on, you won't be able to take your eyes off! :D
Super chic and classy
This is super chic and classy. Looks pretty on me. It matches really well with any style.