Glow Up
A subtle base of cream set the perfect tone for a glowing, golden sparkle. Your nails but better!
What is it: Semi-cured gel nail kit at home

Kit Contains:
24 Nails, 2 Alcohol Prep Pads, Nail File, Wood Stick

Opacity: Transparent
Look: Glossy

Why eazel:
To prevent application adhesion difficulties due to cold weather, we recommend warming up your gel sticker around room temperature (68F-75F).

It's critical that the nails are cleaned thoroughly with an alcohol pad and are completely dry before application to remove any residue.
Customer Reviews
First time user
First time trying a stick on. Gave me the subtle look I was looking for and was easy to use. It`s day 3 and so far looks great.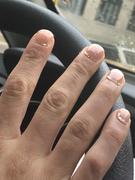 Eazy modern nails
This design is just perfect. The base actually looks sheer pink, and gold sparkles along the cuticle lines are so chic and pretty!! They look good with everything. The instructions are also easy to follow, and it only took like 15 min to apply. Saving so much time and money by not going to the salon every 2 wks!!