Glow Up
A subtle base of cream set the perfect tone for a glowing, golden sparkle. Your nails but better!
What is it: Semi-cured gel nail kit at home

Kit Contains:
24 Nails, 2 Alcohol Prep Pads, Nail File, Wood Stick

Opacity: Transparent
Look: Glossy

Why eazel:
💛 Tips From Eazel For Long-lasting Gel Nails 💛
1. Maintain your products at room temperature. Warmed strips adhere better on your nails (68F-75F). Cure them twice for a better result in a cold environment.
2. Thoroughly wash your hands or clean your nails with an alcohol pad. Your hands should be completely dry before application.
3. Try not to stick an over-sized gel nail sticker.
4. File any rough surfaces to make the surface of your nails smooth.
5. We recommend to file the excess stickers to fit your nail shape before curing to ensure proper adherence.
6. File vertically downwards to ensure that the gels fully cover the tips of your nails. You can also use any nail clippers or a pair of nail scissors for easy application.
7. Press firmly around the edges with the provided wood stick.
8. If you feel like your gel sticker is not hard enough, cure them once again. Avoid direct exposure to sunlight or LED lights before you cure.
9. You may apply base coat and top coat for a long-lasting experience.
10. Avoid contact with water and humid environments for 2-4 hours after application. Best to apply after a shower.
Customer Reviews
First time user
First time trying a stick on. Gave me the subtle look I was looking for and was easy to use. It`s day 3 and so far looks great.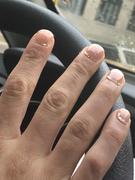 Eazy modern nails
This design is just perfect. The base actually looks sheer pink, and gold sparkles along the cuticle lines are so chic and pretty!! They look good with everything. The instructions are also easy to follow, and it only took like 15 min to apply. Saving so much time and money by not going to the salon every 2 wks!!